Hamburg Memorial Plaque to the Seamen and Transport Workers in the Spanish Civil War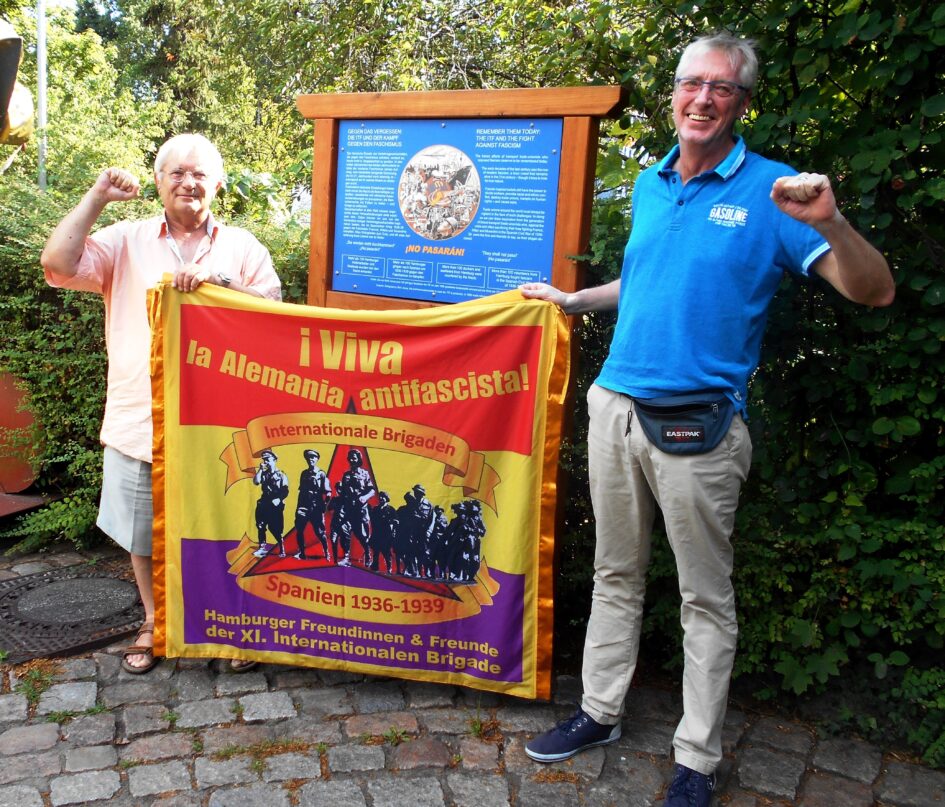 | SPANISHSKY 9. AUGUST 2022 |
A Hamburg memorial plaque to commemorate the seamen and transport workers in the Spanish Civil War was finally erected in August 2022
By the organisators of the Anti-fascist Harbour Event – Wolf Hoffmann
Dear friends,
For more than two years, the Anti-fascist Harbour Event – Wolf Hoffmann wanted to erect a memorial plaque commemorating the resistance of the seamen and transport workers in the Spanish Civil War. The plaque was to be placed on the International Seamen's Club Duckdalben's grounds in Hamburg. Then came the Covid-19 lockdowns … The hope for an early end to the Covid restrictions has unfortunately not been fulfilled to this day. The International Seamen's Club is still closed to visitors – only seamen and staff are allowed to access the premises.
Since we had to assume that this state of affairs would continue for at least the remainder of this year, the Anti-fascist Harbour Event – Wolf Hoffmann and the Duckdalben manager, Jan Oltmanns, decided to erect this commemorative plaque without ceremony and guests. The first and foremost purpose is, after all, conveying the message to those seafarers who, in their thousands, participate in the Anti-Fascist Harbour Event – Wolf Hoffmann every year. A message which is more relevant today than ever before. In this context, we would like to thank Jim Jump for authoring the very powerful text on the plaque.
Jim is also the author of the booklet on the ITF's fight against fascism.
It is my personal hope that, in the near future, fellow trade unionists will carry the memory of this heroic struggle into the unions giving rise to a broader memory politics.
I would like to express my special thanks to the many friends and comrades who contributed to the realisation of this commemorative plaque with their donations at the Anti-fascist Harbour Event – Wolf Hoffmann in Hamburg.
Reinhardt Silbermann
Hamburg, August 2022
---
Featured image:
Reinhardt Silbermann (co-organisor of the Anti-Fascist Harbour Event – Wolf Hoffmann) and Olaf Harms (regional chairman of the trade union ver.di Hamburg). Photo: Cilly Keller