Bill Bailey – an American Brigadist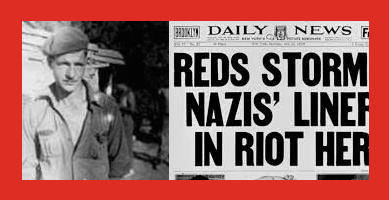 |SPANISHSKY.DK 2 FEBRUARY 2019 |
Bill Bailey was a longshoreman and sailor, a trade unionist and a member of the Abraham Lincoln Battalion. He is, however, best known by Americans, perhaps even achieving celebrity status, for tearing down the Nazi flag from the S.S. Bremen while in port in New York City. Here is a very abbreviated account of his remarkable life
Bill Bailey 
William James Bailey, the son of Irish immigrants, was born in 1910. He grew up in extreme poverty in Hoboken, New Jersey and later Hell's Kitchen in New York. His drunkard father left the family at and early stage, leaving his mother to fend for five children on her own. Bill went to sea in the Merchant Marine in 1929. The miserable working conditions soon prompted him to join the Industrial Workers of the World (IWW) and in 1930, he joined the Marine Workers' Industrial Union and the Communist Party of the United States of America. He became a Party organiser of longshoremen in New York, California, Virginia, and Hawaii. He missed his work as a seaman, however, and went to sea again.
S.S. Bremen and the Nazi flag
In response to the arrest in Germany in 1935 of Lawrence Simpson [1], an American seaman, for bringing anti-fascist literature into the country, a demonstration was organised by communist seamen in New York City that called for all anti-fascists to gather at the dock of the German luxury ship S.S. Bremen. As the demonstration grew to thousands, Bill, with the help of other seamen, managed to cut the Bremen's swastika down and send it sailing into Hudson River. The men were arrested and beaten, and a diplomatic firestorm followed.
Mayor LaGuardia refused to issue an apology to the German Government. President Franklin Roosevelt declined to comment directly on the affair, but he made it known that he sympathised with protests by American Jews against Germany's religious repression. The radical congressman Vito Marcantonio joined the defense team, and then Judge Louis Brodsky, himself a Jew, dismissed the charges against Bailey and the seamen, in a courageous decision denouncing Nazism.
A life at war
When the Spanish Civil War broke out, Bill left for Spain and joined the Abraham Lincoln Battalion seamen's machine gun company and rose to the rank of Company Commissar. For one thing, he fought at Belchite, managing to get hold of a fascist banner which he sent to the Maritime Federation of the Pacific back in the States. 14 July 1937, the Lincoln Battalion was merged with the  George Washington Battalion because of the heavy losses suffered by both battalions. Approximately 3000 Americans took part in the Spanish Civil War. When the war ended, only 150 Americans from the Lincoln-Washington Battalion had survived. Bill Bailey was one of them. He returned to the States and worked as a seaman.
During World War II, he served as business agent for the Pacific Coast Marine Firemen, Oilers, Watertenders and Wipers Association until he couldn't stand sending out any more men risking death. Bill shipped out himself, taking part in the invasion of the Philippines.
During the Korean War (1950-1953), in the midst of the McCarthy era, he was blacklisted  because of his membership of the Communist Party and was unable to get work in the Merchant Marine. In 1953 he began to work as a longshoreman and continued to do so until he retired in 1975 to devote himself to writing and giving lectures [2].
In his retirement, he was extremely generous with his time supporting activists, young and old, seeking to make a better world. He summed up his philosophy as follows: "I have tried to lead my life by following a belief that has guided my passage….to witness an injustice and do nothing—that is the biggest crime".
Films, interviews and books
Bill became a celebrity again in his 70s thanks to the documentaries, Seeing Red (1983) and The Good Fight (1984). He was featured in a number of other documentaries, appeared in two feature films and was interviewed for numerous books, including Bruce Nelson's "Workers on the Waterfront" from 1988.
In 1993, Bailey's autobiography "The Kid from Hoboken" was published. He has dedicated the book to his son Michael with the following words: "To my son Michael. You are the best thing in my life. I tried to leave you a better world."
Bill died in San Francisco in 1995, and his ashes were spread at sea.
Even after his death, Bill Bailey's deeds live on. Only 19 March 2019, Peter Duffy's book "The Agitator – William Bailey and the First American Uprising Against Nazism" was released. As the title indicates, Peter Duffy considers Bill Bailey's swastika action to be the first American uprising against Nazism [3].
---
Notes:
[1] Lawrence Simpson was kept prisoner for over ten months in a concentration camp just outside of Hamburg (Neuengamme), and then transferred to Moabit Prison. He was sentenced to an additional three years and then, because of escalating public outcry, was unexpectedly pardoned by Hitler in December 1936.
[2] As far back as 1930, Bill Bailey began working as a freelance union writer and editor.
[3] You can read an excerpt from and review of the book.
---
Revision and translation editing by Maria Busch, 2020