Joop Schaap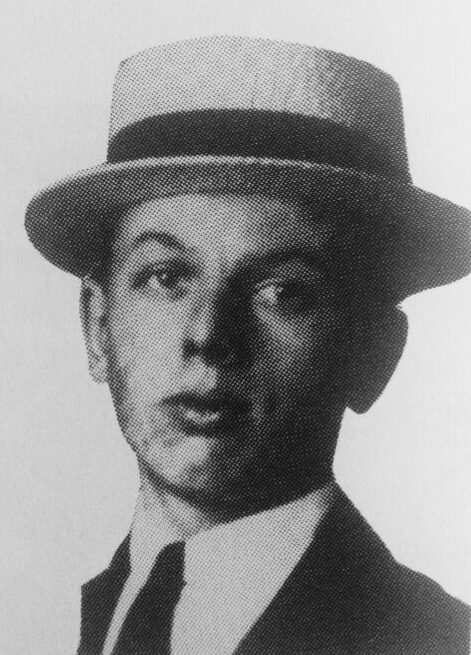 | SPANISHSKY.DK 23 JULY 2017 |
Joop Schaap was one of the leaders of the Dutch Wollweber Group. He was murdered on 7 September 1943 by the Nazis. Two of his friends, Wim Zwart and Evert Hoedemaker, share some of their memories of Joop and other members of the Group. A reference is made to Helena Margaretha Seegers-Budde. She was Leen Seegers Jr.'s mother and, later on, Joop's partner
In memory of Joop Schaap
Joop was an active antifascist

By Wim Zwart
Joop Schaap was about 27 years old when I came to know him. In the years of 1925 to 1928, he lived in the so-called Staatsliedenbuurt in Amsterdam-West, where I was an active member of the Communistische Jeugd Holland (Dutch Communist Youth League) De Zaaier and I met him several times. He was a member of the Communistische Partij Nederland, CPN (Communist Party of the Netherlands) and worked mainly with dockers and sailors, with whom he had a lot of contacts.
Due to private circumstances, he was removed from the CPN and moved to Rotterdam. Here too he had good contacts with boat workers and seamen. Because of his activism, he became a leading figure in the Rotterdam activist organisations as well. It was also in Rotterdam he made his illegal connections when, in 1933, Hitler came to power.
Through the Rhine shipping and the seagoing vessels from Rotterdam, Amsterdam, Antwerp and the Scandinavian countries, large quantities of propaganda material were smuggled into Nazi Germany. Many German emigrants in the Netherlands and elsewhere could continue their work in Germany because of this material.
Guided by Joop, in the election struggle in the Amsterdam labour districts, a 'Red Sailor' of the Hamburg-Amsterdam line spoke against fascism as did Pam Pooters and Adr. Koejemans and others.
During the war years, this anti-fascistic propaganda continued, under even more difficult conditions, of course. Direct sabotage was carried out by Joop Schaap's companions on expedient German ships loaded with weapons.
Until the Gestapo arrested the entire Dutch Group by betrayal, arrests were also made in the foreign ports. Joop Schaap was caught in Copenhagen to which he had fled. In Amsterdam and Rotterdam, the Nazi hangmen caught Leen Seegers and his mother; Theo Fleeré and his wife; Achillus Bequin and his wife; Evert Hoedemaker; Proost Jansen; Van Den Honaart; Roelof Vogelzang; Willem van Vreeswijk; Arij Tettelaar; Leon Barbier; Jan Hoorn; Jan van Schaik; Matthijs Kerver and Adriaan Joh. Feij. The latter had "betrayed" them and practically given the names of all the members to the SD (Sicherheitsdienst) and Gestapo. Herman Mark might also have been caught. I could not figure it out. He stored explosives which he got from Joop Schaap.
Coba and Leentje, the partners of the Amsterdammers Fleeré and Bequin carried in special girdles to fill with explosives and filled or discharged bolts with an explosive load. They were placed on ships that travelled to Germany. German ships carrying large loads of ammunition or weapons were blown up by heavier cargo (bombs).
All arrested persons were brought to a prison in Fühlsbuttel-Hamburg. This is where the interrogations took place. Leen Seegers later told me in Sachsenhausen that in his opinion his mother died because of the misery and hardship he endured.
As regards the process that took place in Berlin, (possibly not all) came from. In any case, I had personal contact with young Leen Seegers and Theo Fleeré, both of whom had been in the hospital barrack for a long time with tuberculosis. I also had contact with Arij Tettelaar and Evert Hoedemaker. Evert had made an important contribution in the camp preparing an armed insurgency (that never took place) by smuggling weapons from the areas around the camp.
I heard the names of Kerver and Bequin in the camp, but I did not meet either of them in person. Vreeswijk I remember vaguely from the camp, I'm not sure about that. I only learned of the rest of them after I received the death list from Plötzensee. Coba, Theo's wife, I have known since the First World War when we were neighbours in the Polanenstraat in Spaarndammerbuurt Amsterdam. Her brother-in-law, Jan Lemaire Jr., was also in Sachsenhausen. He arrived in February 1943 with the transport from Amersfoort to Sachsenhausen. There he led the cultural work for Interrogation and remained a prisoner until the liberation.
On Thursday 25 July 1941, my notes indicate that the transport from the Fühlsbuttel prison arrived at the Sachsenhausen camp. They received the registration numbers between about 38741 (the number of Arie Tettelaar) and 38813 (the number of Evert Hoedemaker), so about 70 prisoners from Fühlsbuttel were transferred. The same day more transferred prisoners came in, but they received much higher matric numbers. I do not know the numbers of the other members of the Schaap group.
Hoedemaker and Tettelaar returned after the war, hence I know their numbers. The ladies Bequin and Fleeré were released before, probably Fey too. Those who do not appear in the Plötzensee list have probably died in a camp or during transport.
When attending the session of the Nazi court, all Sachsenhausen prisoners went in overleg as the official term was. So did the two men with tuberculosis, Leen and Theo. Months later they returned to the camp without their friends, Joop Schaap, who was arrested on 30 July 1943, Leon Barbier, Achille Bequin, Jan Hoorn, Jan van Schaik and Willem Vreeswijk—all were killed 7 September 1943 in Plötzensee.
According to his wife, Theo Fleeré died from tuberculosis in Sachsenhausen's sick barracks on 19 December 1943, shortly after his friends had said goodbye to him.
Leen Seegers Jr.'s father was in Buchenwald. Leen himself and Jan van Kuik were transferred to the infamous Lublin-Majdanek Camp, where he apparently died according to his friends in the camp. Where and how the other members of the Schaap group died is unknown.
There has, to my knowledge, not been written anything about the heroic comrades who performed the antifascist ship sabotage, which is why I decided to tell you about them, even if it is in this flawed manner.
Our fallen combatants, the youngest of whom, Barbier, was a 22-year-old worker from The Hague and the oldest Schaap, an 44-year-old Amsterdam sailor, MAY WE NEVER FORGET THEM.
Wim Zwart
Joop was a great bloke

By Evert Hoedemaker
One day—it was winter 1938-1939—I received a call in Zaandam that I had to go directly to Amsterdam to bring Joop Schaap to Belgium, as the Amsterdam police were searching for him.
I had just disassembled my motorcycle to store it for the winter. I quickly assembled it and drove to Amsterdam. His parents had a grocery store in the Albert Cuypstraat, but Joop was in Leen Seegers' house. He would be waiting by the gate. I had to drive by and he would jump up on the back seat.
The house was surrounded by police. I rushed into the street; the door opened. Joop ran out, jumped up and off we went. We soon had the police behind us. We drove up the Haarlemmerweg and then into a playground. Our pursuers drove past us, and we could 'quietly' complete our task.
At 10.30, Joop had to catch the night train to Paris, which at that time stopped in Brussels. He caught the train at the very last moment. Numb, really stiffened from the cold, he rolled off the motorcycle. A Belgian comrade picked him up and half carried him to the train.
I never saw him again. We were captured at the same time. I sat in Hamburg for nine months alone in a cell, later I was taken to Sachsenhausen.
My survival is due to a small, red book that I received before the war when I fought in Spain. It was about what we could expect when we were caught and how we could best cope with it.
At the front of the book it says: "With confessions, nobody has ever been released."
Evert Hoedemaker – Woerdense Verlaat
---
Source:
A. van Luttikhuizen-De Vries, Enkelen van de 56 miljoen, De Anti-Fascist, Apeldoorn, 1985
---
Full names in the order in which they appear in the text:
---
Translation editing by Maria Busch, May 2019