Leendert Seegers Jr.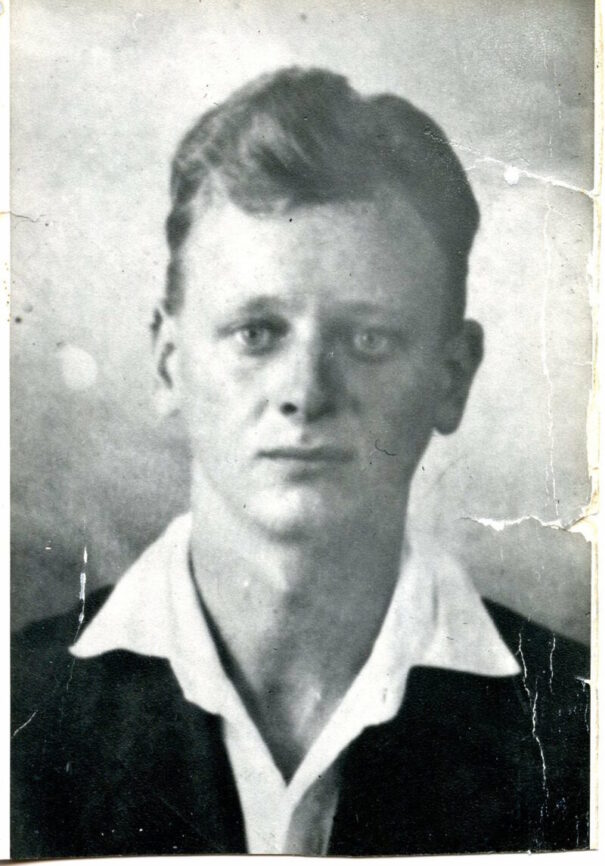 | SPANISHSKY.DK 23 JULY 2017 |
Leendert Seegers Jr. was one of the members of the Dutch Wollweber Group. He died in Majdanek concentration camp as a result of having been used as a guinea pig for Nazi tuberculosis research. Two of his friends, Jan van Kuik and Wim Zwart, share their memories of Leendert and of other members of the Group. A reference is made to Helena Margaretha Seegers-Budde. She was Leendert Seegers Jr.'s mother and, later on, the partner of Joop Schaap, one of the leaders of the Wollweber Group
In memory of Leendert ('Leen') Seegers Jr.
"Leen was such a good boy"

By Jan van Kuik
In Sachsenhausen I have come to know Leen Seegers Jr. He told me that he was betrayed in Amsterdam while his mother and others were arrested. He came to the camp from Hamburg's prison. There his mother died. He told me how she sang in the cell until she ended up in a fatal manner due to the hardship and torture. Together with Leen, I was used as a guinea pig for tuberculosis research. We had to inhale substances. Twice a week we were taken for the X-ray device. We were kept informed of our condition, because one was a "pilot object" not patient. After a while, one observed a cavern as big as a pfennig. That became a 5 mark piece. The apple followed the plum size. Cavern is the name of that hole in the lungs.
A comrade of Leen, Theodorus Andreas Antonius Fleeré (Theo Fleeré) died in 1943. A finger was amputated because he had a nail in it. He had t.b.c. [tuberculosis] and was in my department. From my crib I could see him. In the evening before his death Wim and Joop Zwart and Jan Lemaire have been visiting him at his bed.
Leen was such a good boy. Sometimes he said, "Jan if I do not come home, tell them all." In the beginning of 1944, Dr. Heinz Baumkotter made a transport. About 3500 to 4000 men went to a 'sanatorium'. Joop Zwart even tried to stop the transport. Just de Koch and Bisschof van Heemskerk (Erehaftling) went to the loading station as 'nurses'. We were loaded, kicked, stuffed in the well known animal wagons. The trip was killing. Indescribable scenes played out in the crowded wagons with sick, dying, befouled people. In a corner there were a number of moaning prisoners. I still remember some French. Two SS were throwing a blanket over them and knocking their guns on their heads until everyone was dead. That scene repeated itself several times during the trip.
One evening, the train stops, the doors open. The SS is shouting an order. We have to put ourselves by the wall. A Russian boy, I estimated him about 14 years, is on his way to the 'kiepelton', he does not hear the order. The SS approaches him like a cat catching a mouse, lurkingly. The boy draws back to the open doors. Even further back. He clings to the sides of the door and hangs in the opening. A gun flask shattered his fingers. He falls on the ground, a bullet in his head puts an end to his suffering.
An old Polish man has lost his clogs, he scourges between prisoners to find his clogs. It must have been a dumb bullet that made an end to his life, his brains sat against the shelves. With a German prisoner, an Africa-soldier, I have to drag the bodies to the bodies wagons. This prisoner was shot in Africa and crippled. He died in Majdanek.
Were we still people when we left? Mud of half a meter thick surrounds the station. Leen gets a bloodspewing and threatens to collapse. I take him up and splash through the mud. There's a parade, children, palmpasses carry them. I'm continuing with Leen on my back. How do we arrive at Majdanek, which is a long way to reach the stop (± 9 km), I do not know. We were accommodated in gas and bath room.
Three days passed the chaos, hundreds died.
Do we still know we live? Finally to a barrack. There are already two Dutch, an officer, Hulleman and Keizer, an official of the Ministry of Finance. Hulleman is dying. The barracks are crowded, we lay with 3 or 4 people in one krib.
We go to the laundry room, Leen gets a cough, I think he has spit out his lungs and dies.
Jan van Kuik – Dinxperlo
Setting the record right

By Wim Zwart
10 August 1968, Elsevier's weekly magazine contained a misleading article in which the seamen's action groups were accused of all kinds of "acts" in connection with the mutual struggle of the emigrant organisations of the Ukrainian fascists called "Ukrainian nationalists". In the article mentioned, the abbreviations are used of J.Sch. – W.v.V. – S., where the last letter says: 'The son of the Amsterdam City Council member.' It is clear that this is about Joop Schaap, Willem van Vreeswijk and Leen Seegers. In Amsterdam, Leen Seegers Jr., his mother, Theo Fleeré, Evert Hoedemaker, and in Rotterdam, Jan Cornelis van Schaik (Jan van Schaik) and Arie Tettelaar were caught by the fascists. They were transferred to the prison in Fühlsbuttel/Hamburg, where the hearings were taken place and, to the conviction of Leendert Jr., from what he told me in the Sachsenhausen camp – his mother died from the consequences of the hardships he had suffered.
For the process that took place in Berlin, the others were transferred (some definitely, others probably, but not for long) to Sachsenhausen, the infamous concentration camp about 30 km north of Berlin in the town of Oraniënburg. Anyway, I contacted Seegers Jr. and Fleeré in the summer of 1942.
On 25 July 1941, my notes are as follows:" Arie Tettelaar and Evert Hoedemaker were in KZ. Sachsenhausen, they received the caption numbers 38741 and 38813. Several prisoners were introduced and registered on that day, but they received higher numbers, so presumably 70 or more of the Fühlsbuttel transport had arrived."
The two of whom I mentioned the number, I might somehow, after the war, have got hold of them, they probably only had to do sideways with the group of Schaap. In any event, both of them remained in Sachsenhausen, while Seegers Jr. and Fleeré were taken into the sickness barracks because of tuberculosis and have been taken back to Berlin for a short period of time for the process, when both of them returned to the camp and returned very ill to the t.b.c. barracks. Theo Fleeré probably died in the fall of 1942, despite the interference of Dutch prisoners of war. Leen Seegers was sent from Sachsenhausen with, if I remember correctly, after the death of Fleeré, another sick; Jan van Kuik to Lublin/Majdanek. Jan van Kuik managed to get away to Natzweiler and survived Dachau. The correct date of death of Theo,  Leendert Jr. and Leendert's mother are unknown to me.
Wim Zwart – Amsterdam
---
Source:
A. van Luttikhuizen-De Vries: Enkelen van de 56 miljoen, De Anti-Fascist, Apeldoorn, 1985
---
Translation editing by Maria Busch, May 2019