Maria Zaitzeva – I Will Never Forget My Second Homeland!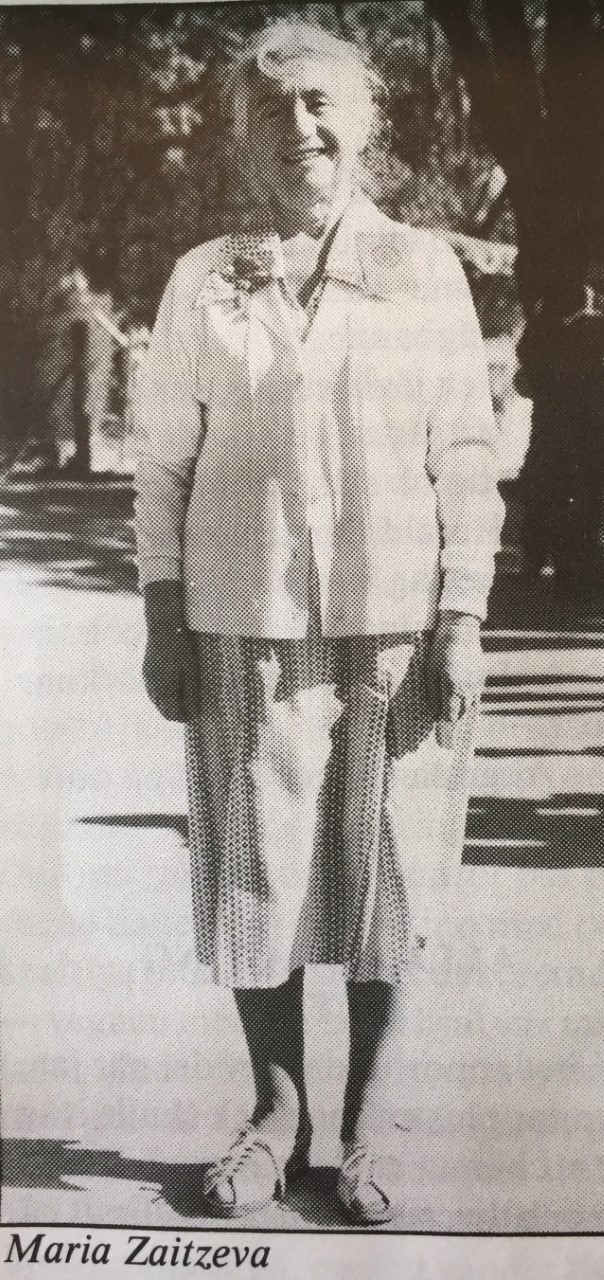 |SPANISHSKY.DK 2 MARCH 2019 |
In 1986, Kerstin Gustafson was in Spain with a group of Swedish volunteers for Spain for the 50th anniversary of the outbreak of the Spanish Civil War. Here she met Maria Zaitzeva, who had been an interpreter and translator for the Soviet military advisers from 1936 to the end of 1937. Maria had come to Barcelona in October 1936 by ship with her husband Ruben Sergeyevit's Abakov
Reunited with Spain
Kerstin Gustafson relates:
As Maria Zaitzeva steps off the plane at the Barajas airport in Madrid, it is exactly 50 years since she last set foot on Spanish soil. In 1936, aged 25, she arrived as an interpreter and translator for the Soviet military advisers. For over a year she worked at the front.
Now she got see Spain again.
It was the communist youth league, CJC that had invited a group of Soviet war veterans to their international summer camp in Escorial, a few kilometers outside Madrid. Young people from all over Spain and representatives from all over Europe came to celebrate the 50th founding anniversary of Juventud Socialista Unificadas. One of the veterans was Maria Zaitzeva, a small but indomitable woman with grey hair tied in a bun at the nape of her neck.
Studied Spanish
– "In my heart, Spain will always be my second homeland," Maria says.
Before the outbreak of the Spanish Civil War, Maria studied at the Institute of Foreign Languages in Moscow. Her first language was French, her second Spanish.
– "I didn't learn much Spanish," she tells me, "at least not at the institute. But after the studies, I was offered to work in the Soviet delegation in Uruguay. I worked there from 1934 to 1936 and that was when I learned the language properly".
When back in Moscow, Franco rebelled against the Republican government in Spain. Maria was a member of the communist youth league, Komsomol, and worked actively for the Spanish people.
Volunteering for Spain
– "We collected money, sent food, arranged meetings. All the Soviet people was on the side of the Spanish Republic, not just the government. By then, I could speak Spanish and I volunteered for the war in Spain. I thought I could help". Thus, Maria left for Spain and the war. As mentioned, she worked as an interpreter and translator for the Soviet military advisers.
Maria recalls that initially it was difficult, as she was not familiar with the military terminology. – "Working 24 hours a day, we soon got the hang of it. The interpreters were mostly women, brave women, who worked at the front under constant bombardment. Under these conditions, I participated in the battles of Jarama, Guadalajara, Brunete, Zaragoza and Belchite."
13 months at the front
Maria was at the front for 13 months. After the 13 months of service at the front, she was recalled. It was a demanding job and all interpreters were replaced after approximately one year. It was, however, with heavy heart that Mary returned home. – "I have a special love for Spain and the Spanish people. I felt a lot of love, tenderness and gratitude from them".
Especially the first operation at Teruel in 1936, has entered Maria's soul – "It was December and it was very cold. We had taken shelter in a house, a very poor home. The woman in the house welcomed us with so much love. She had no food, but she gave us the last beans she had. Maria stays silent for a moment. – "You know what, I will never forget that".
The hope to return one day
I met Maria in Madrid. As I have told you, this is her first visit to Spain since the Civil War. She has not forgotten the Spanish language, she still speaks Spanish fluently and also serves as an interpreter for the other veterans.
Nor has she forgotten the Spanish people. – "No, I have always hoped to return to Spain once again. Spain is my second motherland, and I love the Spanish people."
---
Of the 119 names of Soviet women (who we know of) who worked in Spain during the Spanish Civil War, 114 were either interpreters, translators, telegraphers or stenographers. The remaining five had other tasks.