Friedrich "Fritz" Schuhmann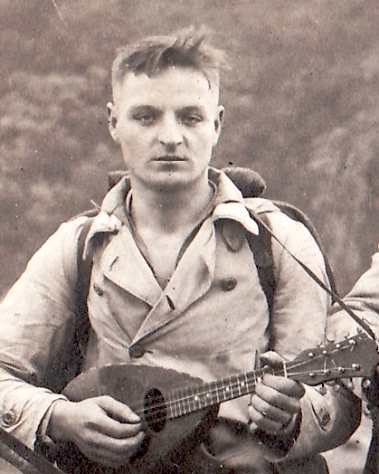 | SPANISHSKY.DK 4 MAY 2020 |
Wir versprechen, ihre Erinnerung zu ehren
Deine Treue und Deinen Mut
indem sie zum Sieg führt,
die Sache, für die Du Dein Blut geopfert
We promise to honour your memory
your faithfulness and your courage
by leading to victory,
the cause for which you have sacrificed your blood
Friedrich "Fritz" Schuhmann was one of the 3000 to 5000 German and Austrian volunteers who fought on the Republican side in the Spanish Civil War. He was killed during the Battle of Brunete, barely 31 year old

By Allan Christiansen/Translation (from English) by Maria Busch
The early years
The sixth of eight children, Friedrich Schuhmann was born in Höchst im Main, 12 August 1906 to an ordinary, German working-class family. A family that was not infected by the 'Brown Pest' which raged through Germany in the 1920s and 1930s.
His father, Karl Friedrich, born 1864, was politically organised from an early age and in 1900 he became af member of the Sozialdemokratische Partei Deutschlands (Social Democratic Party of Germany) in Höchst.
"Fritz" became a locksmith apprentice in his hometown and cultivated his appreciation for music with his comrades in the Höchst Mandolin Club.
In the early 1920, he became a member of the Kommunistischer Jugendbund Deutschland (Young Communist League of Germany). Four year later, he joined the Kommunistische Partei Deutschland, KPD (Communist Party of Germany) along with two of his brothers and his father.
The 1930s and political work
The Great Depression from mid-1929 throughout the 1930s, led to an enormous increase in unemployment: more than one-third of the working population became unemployed and Friedrich was one of them. To make ends meet, he moved in with his parents in Kurmainzer Straße 28 (today, no. 20).
Friedrich "Fritz" Schuhmann soon became involved in political work and fulfilled a number of Party assignments in the Frankfurt am Main area. When Hitler and the Nazi party seized power in 1933, Schuhmann was forced to flee, not least because of his work for the Communist Party. He initially fled to the German Land of Saarland in August 1933, where he resided until May 1935, when lists of names of communist who had escaped the Gestapo [1] began to circulate in Frankfurt am Main. The lists called for the arrest and surrendering of named persons—of which Friedrich was one. The lists included photos and registration numbers—Friedrich Schuhmann's numbers were 3554 and 1627.
Impelled by this looming threat and the Saarland referendum on joining the German Reich, Friedrich, in 1935, fled to Asnières, a minor suburb just north-west of Paris. He was, however, soon arrested by the police and extradited to Brussels. Shortly after he had been deported to Brussels, notwithstanding the attitude adopted by the police, "Fritz" returned to France, this time to Neuilly-sur-Marne, a suburb east of Paris. Here he took up residence in 9, Rue de la Paix.
The Spanish Civil War
August 1936, Friedrich "Fritz" Schuhmann travelled via Paris to Barcelona, where he was enrolled in the Centuria Thälmann [2] (headquarters on Plaza de Catalonia) founded by Hans Beimler [3]. In this group he fought alongside the Danes, the three brothers Harald, Kai and Aage Nielsen and Hans Petersen [4].
In early October 1936, the Centuria was transferred to Albacete and included in the XI International Brigade, created 17 October 1936. Initially, Friedrich fought in the Ist Battalion Edgar André (strictly speaking, Edkar André) and was transferred to the 3rd Battalion Ernst Thälmann shortly before the Battle of Brunete.
In the beginning of July 1937, the military leadership of the Madrid defence launched an offensive at Brunete in an attempt to evict the fascist Franco forces from Madrid. The goal was to capture Brunete and move south to join the Republican troops at Jarama. Brunete fell to the Republicans, but then the attack broke down.
In his novel, Im Spanischen Krieg, p. 323, Ludwig Renn [5] writes: "…A mist of warm air enveloped the barren fields over which planes were circling […] a trucker gave me a ride and off we went, passing through several villages which had been completely levelled with the ground during the fascists' first counterattack. Yet another village reduced to rubble came into view—it was Brunete. The military staff had taken up quarters by the roadside, not far from the church. Edgar André and Thälmann had fought alongside Lister [6] since 11 o'clock. At 4 pm, General Walter reported to the staff. Having delivered his report, he said: 'The wing to our right has carried out a three pronged attack on the village, but has been unable to capture it […] I think they are going to deploy our men in the battle of Quijorna.'
Shortly after General Walter had left, swarms of fascist planes appeared, bombarding Brunete. Some of the bombers flew right over us and crashed in the village behind us—all of them heavy Junkers. On this day, in this battle our two battalions suffered 14 killed and three wounded."
Friedrich Schuhmann was among those killed.
In memory of…
In Friedrich "Fritz" Schuhmann's memory, a stumbling stone was laid into the pavement in front of Kurmainzer Straße 28 (today, no. 20) 8 May 2012
…and November 2018, a tree memorial plaque was erected in a memorial park in La Fatarella, Spain.
---
Notes:
[1] Gestapo (Geheime Staatspolizei) was Hitler's state secret police.
[2] Centuria Thälmann roughly translates "The One Hundred Men Group Thälmann".
[3] Reading suggestion: Beimler, Hans: Im Mörderlager Dachau: Vier Wochen in den Händen der braunen Banditen. In English: Four Weeks in the Hands of Hitler's Hell-Hounds: The Nazi Murder Camp of Dachau, Modern Books, London, 1934.
If you would like to know more about Hans Beimler, you can read our article: Hans Beimler
[4] You can read about the brothers Nielsen and Hans Petersen in our article: Four Danes in the Spanish Civil War
[5] Ludwig Renn is the author, among other books, of "Im Spanischen Krieg", Aufbau Verlag, Berlin und Weimar, 1968—in English: "In the Spanish War"—and several children's books. Ludwig Renn was one of the few trained officers in the International Brigades.
[6] Enrique Líster