Mur de la Memòria – The Wall of Memory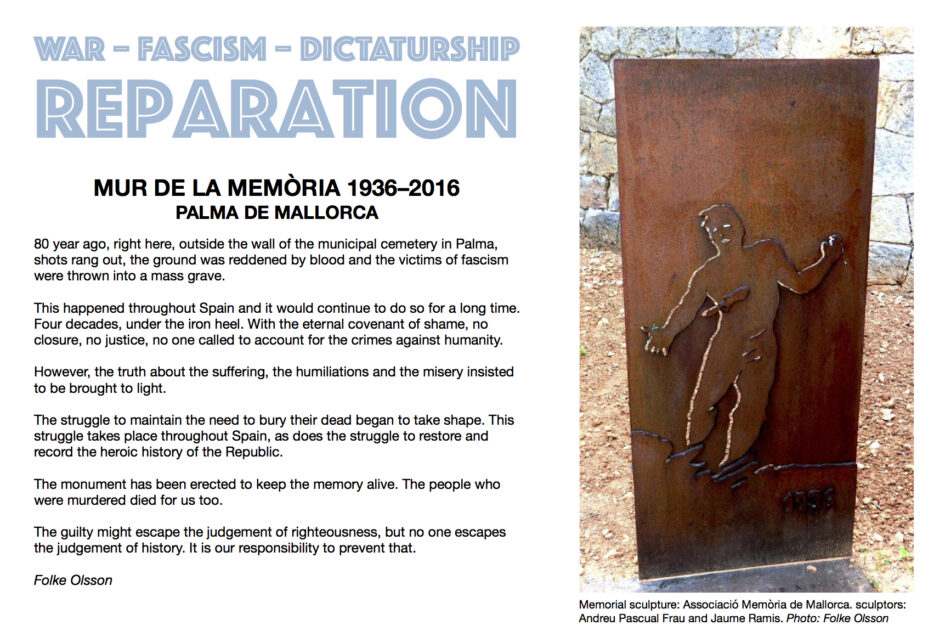 |SPANISHSKY.DK 15 JUNE 2019 |
Associació Memòria de Mallorca has initiated the creation of the memorial, Mur de la Memòria at the municipal cemetery in Palma de Mallorca. During the fascist dictatorship, this cemetery was the site of a great many executions, including that of Palma's mayor, Emili Darder

By Folke Olsson & Allan Christiansen/Translation (from Danish) by Maria Busch
The memorial was completed in 2011. Similarly to the 'stumbling stones' at Placa de la Pescateria, which was also initiated by Associació Memòria de Mallorca (Associació per a la Recuperació de la Memòria Històrica de Mallorca) ('Association for the Recovery of Mallorca's Historical Memory'), the memorial Mur de la Memòria ('The Wall of Memory') is to remind us of the victims of fascism, honour and vindicate those men and women who were brutally killed by the fascists, thereby  addressing and acknowledging the fascist past of Spain, which has never officially been done.
Our historical memory is our strongest weapon in the battle against a re-propagation of right-wing totalitarianism. Mur de la Memòria is part of this memory.
Folke Olsson, Svenska Spanienfrivillgas Vänner ('The Friends of the Swedish Spain Volunteers') has made a booklet about the Wall of Memory. If you wish to download the booklet, click the photo. If you just want to read the booklet, click on the link.