Honouring Hamburg Resistance Fighters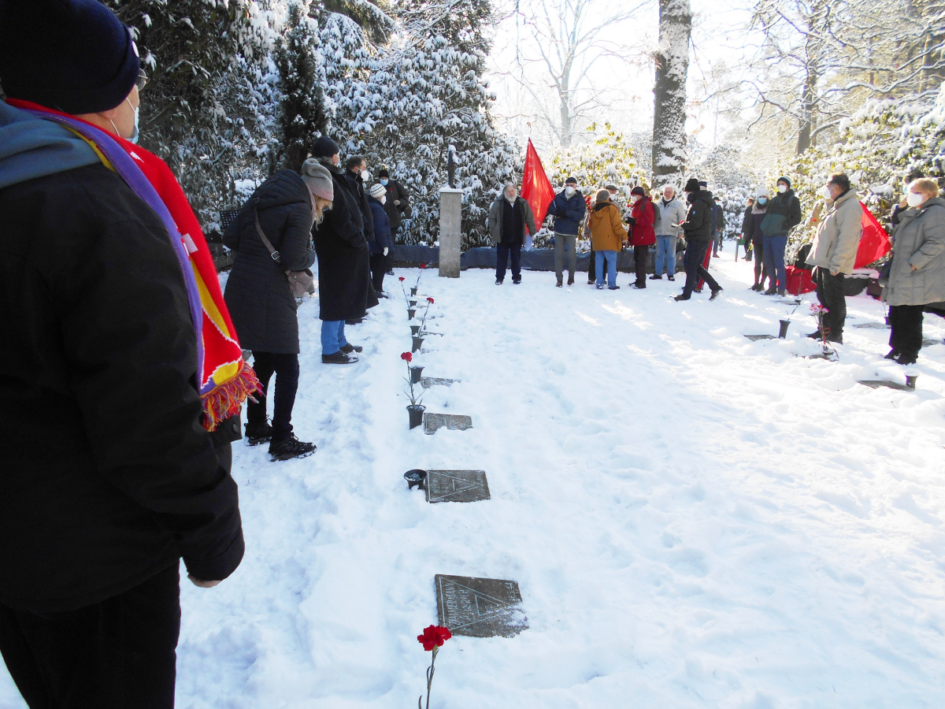 | SPANISHSKY.DK 5 FEBRUARY 2021 |
Memorial celebration on 30. Januar 2021

By Friends of the XI International Brigade
Every year on 30 January, the Ernst Thälmann Memorial holds a public memorial event in honour of the Hamburg resistance fighters, including the Spanish Civil War fighters Kurt von Appen, Bruno Priess, Rudolf Stender, Erich "Vatti" Hoffmann, in the Memorial Grove for the Hamburg Resistance Fighters at Ohlsdorf Cemetery.
88 years ago, on 30 January, President of the German Reich Paul von Hindenburg handed over power to Hitler. On 2 February 1933, after the dissolution of the Reichstag (Parliament) and the occupation of the Reich- and district headquarters of the KPD by the police, the terror against the labour movement began.
Countless German anti-fascist resistance fighters lost their lives fighting Nazi barbarism.
Resistance fighter and brigadist Willi Bredel wrote: "They did not bow their necks in cowardice, even when the executioner raised the axe over their heads. With brave hands they put a spanner in the works when it was necessary to save our people from the disaster of a world war. Many of them paid the ultimate price, their lives, and gained immortality."
Ernst Thälmann's prediction, "Whoever votes for Hindenburg votes for Hitler, whoever votes for Hitler votes for war!" came true in 1939.
This year the Deutsche Kommunistische Partei, DKP (German Communist Party) from Hamburg was among those who called for the commemoration. Leading DKP comrades presented their membership book to young comrades in front of our fighters' graves. By joining the ranks of the DKP, they committed themselves to never stop the struggle against fascism and war!
Regrettably, no official representatives of the Sozialdemokratische Partei Deutschlands (Social Democratic Party of Germany) and the trade unions came to the grove of honour.